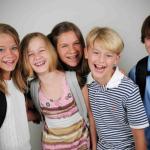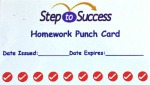 Not all students have the same academic struggles, and not all students need tutoring delivered the same way. That's why we created the Step to Success Homework Punch Card! The card is valid for 10 months after purchase, so your student has the flexibility to come in for help whenever they need it!
$300.00/card – that's only $30.00 an hour for tutoring!
One punch card is good for 10 – 1/hr. sessions of homework help that you can use any time. You can come 1 time, or ten times, in a month. It's up to you!
Your child can come in during center hours, Monday – Thursday 4:00 p.m. – 7:00 p.m. At each visit, your child's card will be punched.
Purchase 2 cards, and receive a $100 discount.
Cards cannot be shared between siblings and expire 10 months from purchase date.
No other tutoring center offers Tutoring On Your Terms!
Cards are available for purchase during center hours. Need more information? Call us today, or email lisa@steptosuccesstutoring.com.
"I wanted a way for my child to get the homework help he needed, when he needed it. The Homework Punch Card is going to be great! Thank You!" ~ J. Wilson, Parker parent